Reflecting on Harvest 2019: The Good, The Bad and The Ugly
Article published on: Jan 29
Another harvest has come and gone, and it's time to reflect back on the season as a whole. Since grain bagging adds efficiency, capacity and quality to harvest operations, we wanted to dig into the good, the bad and the ugly that farmers everywhere experienced this season to see where grain bagging may fit in.
The 2019 harvest report shed light on several aspects of the 2019 harvest, showing us that labour and drying times are a huge bottleneck for farmers, that yields were widely down and that many farmers still intend to maintain or increase their crop output next year.
We're breaking down some of the highlights of the 2019 harvest study below to underline some of the issues — and wins — that farmers across North America faced during this harvest season.
The good
Compared with last year, farmers are still positive about the economic status of farming and about the financial health of their own farms (43.9% of surveyed farmers reported that they felt positive about their own farm's financial health in 2019, while the number was 41.5% in 2018)
81% of surveyed farmers still intend to maintain or increase the number of acres that they farm next season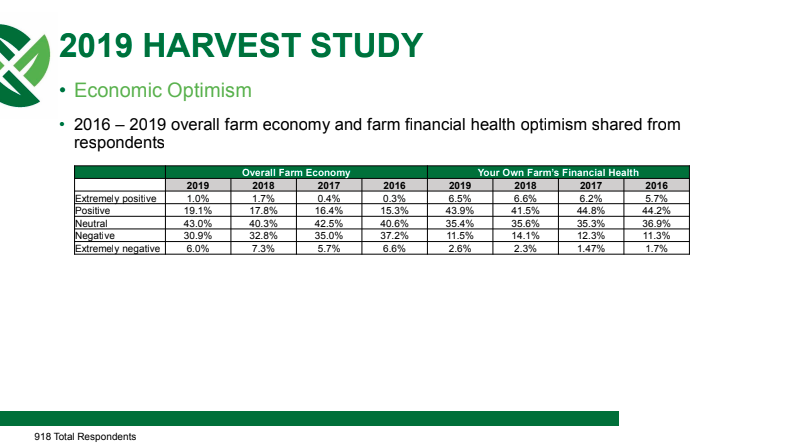 The bad
Almost 30% of farmers reported that labour was their biggest bottleneck during harvest, while 25% of farmers reported that drying speed was a huge bottleneck for them
Crop satisfaction is slightly down this year versus in 2018, with a drop in farmers who consider themselves extremely satisfied with their soybean or corn crops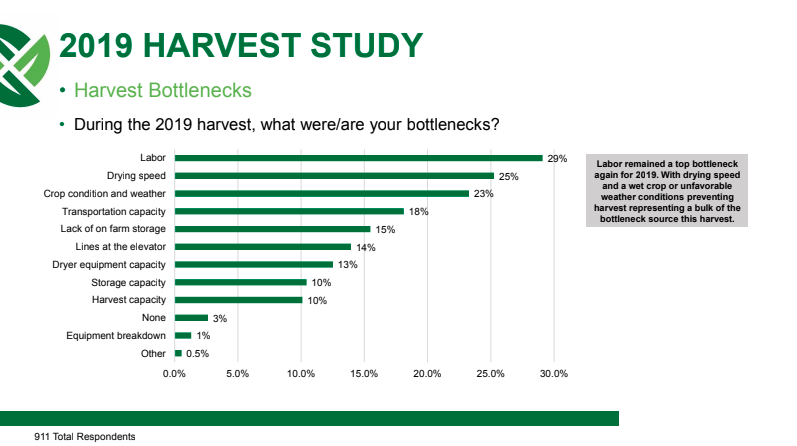 The ugly
Resistant weeds and early frost damage provided a significant amount of issues for farmers during the 2019 harvest
81% of farmers surveyed had crops come at least a week later than years before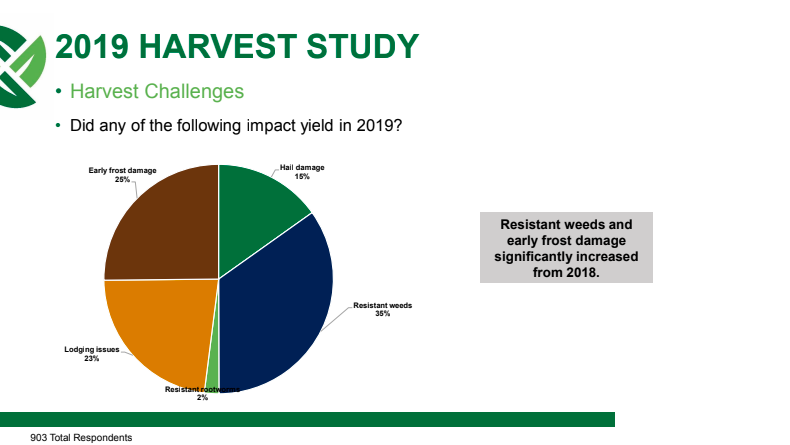 How can grain bagging help?
Grain bagging can help to alleviate a lot of issues when it comes to common farming headaches, providing storage, speed and quality for grain yields:
Labour requirements significantly lower during harvest, since grain bagging takes place on the field. You can also significantly reduce transportation capacity.
It's easier to beat the bad weather with grain bagging since you're able to get crops in the bag sooner.
On your own fields, grain bags provide unlimited, flexible and cost-effective storage.
There's no such thing as waiting in line for a grain elevator when you store your crop in bags.
The ability to farm more, to harvest more acres and to reduce overall costs.
For many farmers, the 2019 season was successful. However, many farmers also struggled with decreased crop yields and increased issues. By adding grain bags into the farming equation, many issues can be prevented. By providing a method of grain storage directly on your fields, you're able to increase speed, increase storage space and increase the viability of your harvest.
---