Grain Bagging Impressively Lowers Labour Costs
Article published on: Apr 20
Grain bagging is gaining popularity among farmers for its incredible benefits. The innovative grain storage system is much more than just a temporary grain stowing solution—in fact, it delivers multiple logistical improvements on top of significantly speeding up the harvest. Among the top benefits is the impressive rate at which grain bagging reduces labour costs.
The number one bottleneck for farmers surveyed by the Farm Journal was labour related in 2018. To keep harvest moving quickly and efficiently, harvest procedures must be streamlined and operationally sound. Grain bags can improve harvest efficiency by bringing harvest storage requirements directly to the harvest operation in the field. Farmers all over the world could improve their labour issues with the use of grain bagging.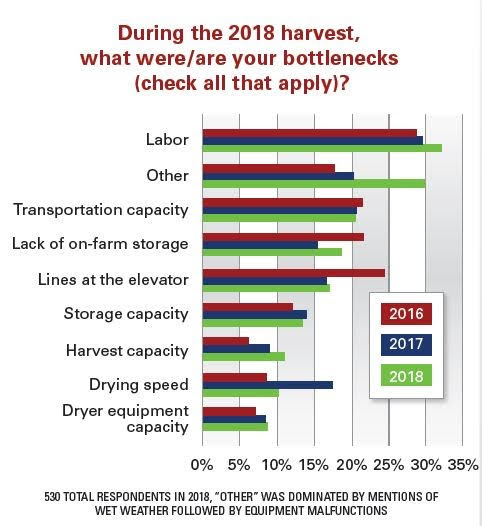 Source: Ag Professional: Top 10 Things Farmers Wished They'd Have Done In 2018, January 2018
The various ways grain bagging reduces labour costs
By bagging directly in the field, farmers no longer have to spend time waiting on trucks to come back from an elevator or from farm bins. They are able to keep combines running, as well as enable harvesters to work quicker and decrease downtime.
A fewer amount of trucks are needed to haul grain if it's bagged in the field. According to the 2018 Farm Journal survey, the third most prominent bottleneck for farmers last year was transportation capacity.
Fewer trucks allow for reduced labour and freight costs during harvest season. Plus, grain bags deliver an incredible option for farmers who would like to evade expensive storage at the local elevator, but who don't have the budget or means to invest in grain bins on their individual properties.
Based on seed variety, protein content, moisture and more, grain can be easily separated into various bags when utilizing grain bagging solutions. This approach helps if farmers are blending or if they need to charge a premium on higher quality grain. It saves time and money on labour because the grains are easily segregated from the moment they're harvested.
Another labour cost reduction comes from faster transfer rates. Grain bags can be filled up at speed of nearly 30,000 bushels an hour, which helps to guarantee there aren't any disruptions during the harvest.
Grain bags also provide unlimited storage capacity. Based on the Farm Journal survey of farmers in 2018, the fourth and sixth bottleneck for farmers last year were respectively lack of on-farm storage and storage capacity. With storage grain bags, farmers can store grain for roughly 7 cents per bushel and have virtually limitless storage options.
If a farmer's bins all reach capacity, grain bagging allows nearly unlimited space for additional grain storage. If farmers find themselves being forced to pile grain on the ground or moving extra grain to the local elevator, a beneficial option would be to opt for grain bags to improve storage capacity. Years where there's a bumper crop or if previous years' crops are still being stored in bins are a good time to utilize this new storage solution.
To improve labour costs, try Pro Grain Equipment's grain bagging products
We strive to deliver the top-performing, highest quality equipment to streamline your harvest. We know effective equipment, storage and labour methods can absolutely transform and elevate the success of a harvest season.
Our impressive baggers come with a two-year limited warranty. Each of our four-grain bagger models has the capability to load grain using various methods, such as a telescoping swing drive 24" conveyor, telescoping swing driver 14" auger and a loading hopper for combines and grain carts.
Our quick and dependable extractor machine impressively removes grain from the bag to truck at nearly 10,500 BU/HR and also comes with a two-year limited warranty. It's incredibly simple to set up, operate and maintain, and its impressive functionality will get grain to market fast.
The bag roller avoids the heavy, complicated task of cleaning up or recycling grain bags by hand by baling used grain bags into a recycle-ready bale. It manages the cleaning aspect of used grain bags with skillfulness. It also has a no-catch bag guide that allows consistent alignment, as well as bumper pull and skid steer options available.
We would love to provide more information about how to update your grain bagging systems and eliminate costly labour overhead expenses. With grain bagging, harvest time drastically improves and labour costs go down at impressive rates due to efficient storing, transporting and harvesting techniques.
Reach out to us on our website or by phone at 306-255-2112 for more information about grain bagging benefits and product details. You deserve to have the most efficient harvest solutions, and we strive to help farmers everywhere get there.
---