Speed Up Harvest with Grain Bagging
Article published on: Apr 19
Demands for food and grain continually increase over the years, and with it, grain storage and handling complications become more significant. In comparison to other methods of grain storage, grain bags are a cost-efficient alternative. During harvest, grain bags are used as airtight vessels that hold grain in a controlled and dry environment for an extended period of time.
According to a 2018 Harvest Study by Farm Journal, 23 percent of farmers said they saw an earlier harvest in 2018 than the previous year. After the harvest, almost 20 percent said they wished they had harvested earlier and planted earlier. Earlier harvest increased almost 10 points over the previous year's study. For early harvests, the use of grain bags increases the efficiency of the harvest process because it keeps the harvest moving quicker than the conventional grain storage techniques.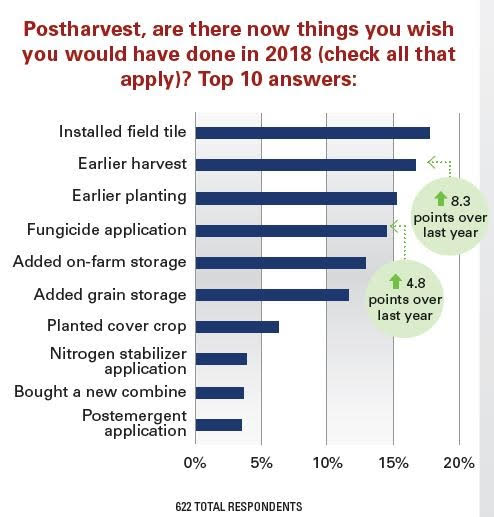 Source: Ag Professional: Top 10 Things Farmers Wished They'd Have Done In 2018, January 2018
Bagging grain enables farmers to have more flexibility to manage harvest setbacks and challenges, including inclement weather or conflicting transportation logistics. By bringing the storage bags into the field, this eliminates a major step of the traditional grain storage process at harvest: transporting the grain from the field to the grain storage bins and silos. In harvest season, time is money, so finding efficient ways to streamline your processes and manage time with more competence and resourcefulness is a huge improvement.
What makes grain storage bags so incredible?
Storage bags are designed in a way that reduces the oxygen level and increases the carbon dioxide once they are sealed. This balance of elements dispels practically all fungal diseases and insects without the need to use harsh insecticides or other harmful chemicals, according to FarmProgress, January 2018. Less toxicity and decreased labour mean a better product and improved profitability.
Additionally, the airtight quality of the grain bags hampers the grain's natural metabolic process, which results in heightened temperatures in the grain. This actually improves the storage life of the product, which can also be a big money saver for farmers, according to FarmProgress.
With the improved quality of grain and streamlined process for storage, the amount of time spent harvesting grain is reduced drastically. This is especially important when there are early harvests. It allows unlimited additional storage capacity for handling high-yield crops, improves the ability to avoid weather-related harvest constraints and expands the harvest timespan window. You are able to start harvest operations earlier in the season, as well as run later into fall by bagging grain that may be higher in moisture.
The cost efficiency is astounding, as well. With grain bags, you are able to store your grain for roughly 7 cents per bushel. Farmers no longer need to sink capital into additional transportation fleet equipment, nor do they need to manage additional harvest labour constraints. Storage bags are a solution for rented land, too, as farmers will not need to invest in permanent storage any longer.
The many long-lasting benefits of grain storage bags
Bagged grain storage is the way of the future. Take a look at the plethora of reasons every farmer should consider adding this efficient method of grain storage to harvest operations.
– Complete harvest in a shorter period of time. – Greater control over the weather and protecting the products. – A better grade of grain. – More control over when to market your grain. – Greater ability to farm more acres. – Increased capability to farm with less manpower. – Reduced money spent on trucks, trailers and traditional grain storage facilities.
Products to overhaul your harvest methods
Harvest is one of the most important times of the year for farmers. Our team at Pro Grain Equipment takes this season very seriously and wants to offer only the best and most productive products to enhance your harvest process.
Pro Grain Equipment's dependable baggers are backed with a two-year limited warranty. We offer four models of grain baggers that each has the capacity to load grain bags in several ways, including a loading hopper, telescoping swing drive 24" conveyor and telescoping swing drive 14" auger.
Our extractor also comes with a two-year limited warranty. The fast and reliable machine expertly extracts grain from bag to truck at about 10,500 BU/HR. It is quite simple to set up, operate and maintain, and will elevate your process for getting grain to market.
The bag roller manages the cleanup of used grain bags with finesse; it bales the spent grain bags into a recycle-ready bale, sidestepping the heavy and difficult task of cleaning up or recycling grain bags by hand. The bag roller has bumper pull and skid steer options available, with a no-catch bag guide to allow consistent alignment.
For more information about our grain bagging products and how to make your harvest season more efficient, contact us at 306-255-2112 for more details about how to improve your harvest processes.
---